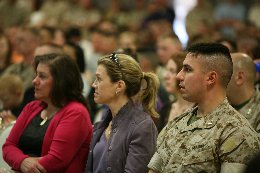 MARINE CORPS BASE CAMP LEJEUNE, March 23, 2009 - The Marines, sailors and families of the 2nd Marine Expeditionary Brigade's Command Element gathered here March 19 and 20 for pre-deployment briefs.

The brigade, also known as Task Force Leatherneck, is scheduled to deploy to Afghanistan later this spring to conduct counterinsurgency operations.

The command held the briefs to inform the service members and their families of what lies ahead for them in their ensuing journey. Brig. Gen. Larry Nicholson, 2nd MEB commanding general, said the Marines and sailors will be deploying to a region of Afghanistan that is both dangerous and austere.

"It's not the garden spot of the world," Nicholson said. "It's a tough neighborhood."

The Command Element and Brigade Headquarters Group's Family Readiness Team was introduced at the beginning of each brief as the individuals who will help guide the families through the deployment. The team provided informative materials to the service members and their families.

Nancy Wike, the BHG family readiness officer, said the readiness team has "grown by lengths and bounds and continues to get better."

"The families have a single person to dispense information, which ensures information gets out to everyone," Wike said. "They have a single person for the resources and knowledge they need to know."

Wike said the resources and knowledge available to single and married service members facing deployment are both plentiful and vital. She described legal, financial, vehicle, and interpersonal-communication matters as some of the issues that can make or break a deployment because the service members can't focus on their tasks-at-hand if their minds are elsewhere.

Looking back on the past 10 months of effort from her team, Wike said the families will be as prepared as possible.

This all falls in line with commandant of the Marine Corps' vision in his 2006 Planning Guidance, where he called for an improvement in the Corps's family readiness program.

Family members like Jackie, wife of a BHG Marine, is happy with how far the Corps has come and where it's going with regard to family readiness.
"I believe the program is extremely helpful, because through it we learn their mission, purpose and what they will face," said the 26-year-old third grade teacher as she held back tears. "It gives us expectations of what they will be going through and what we can expect here at home."

Dustin, Jackie's husband and the father of their 11-month-old daughter, remains calm at heart knowing that his family will be safe and cared for while he's gone. He realizes the MEB's destination in Afghanistan lacks ready accessible access to Internet, phones and other forms of communication that can be found in Iraq, where he deployed from 2006 to 2007. Because of this, he feels families need the support the readiness team can offer.

The Lincoln, Neb., native said he feels family readiness is the most important aspect of deployment. He said there's no way Marines and sailors can deploy and be as successful accomplishing their mission if their families are not ready.

"They won't have peace of mind," he said. "They need that confidence of knowing their loved ones are OK."

Marine veterans agree. Chief Warrant Officer 5 Wayne Porowski, an engineer equipment officer with the Command Element, has seen Marine Corps family readiness evolve over 27 years of service and seven deployments.

The Tampa, Fla., native said the Marine Corps is a more effective force now that family readiness is emphasized. He's confident the efforts of Marines and sailors during their pending deployment will show truth to that statement.

"They will have less to worry about back home, so they will be effective," Porowski said.

Nicholson said family members can expect to hear from him often in regards to how Marines and sailors are through mediums like newsletters and Web site information. His final words before ending the event were simple: "Nobody deploys by themselves and no family gets left behind."