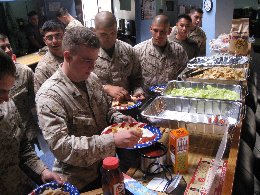 CAMP PENDLETON, Calif., May 7, 2009 - The Camp Pendleton Single Marine Program celebrated Cinco de Mayo with a day of Mexican cuisine at the 33 Area SMP building, May 5.

The cultural event offered a variety of traditional Mexican and American menus including carne asada, tacos, nachos with salsa, refried beans, fajitas, hot dogs and hamburgers.

"The reason we are doing this (event) is to give single Marines an opportunity to come out here, relax, meet our crew and celebrate Mexican heritage with a variety of traditional food," said Michael Miller, 33 Area SMP coordinator. "We will be here until all the food is gone."

Contrary to what many people believe, Cinco de Mayo is not Mexico's Independence Day. It is a commemoration of the Battle of Puebla in 1862 in which outnumbered Mexican soldiers defeated the bigger and better-equipped French Army.

According to the University of California's Latino Studies Web site, Cinco de Mayo is celebrated on a much larger scale here in the United States than it is in Mexico and has become much like St. Patrick's Day, therefore, a person does not necessarily have to be Mexican to celebrate it.

"I think this is great because it brings Marines and sailors together allowing us to get closer with each other and also, enjoy some good chow. I will be back for seconds," said Lance Cpl. Edward W. Castellon, basic electrician, communications company, Headquarters Battalion, 1st Marine Division.

The SMP is focused on enhancing quality of life for single service members by providing positive and rewarding outlets through recreation, community involvement, and dynamic facilities.